Tips on how to stay healthy this winter & supporting your immune system, from London yoga retreat company, The Yoga Wellness Company

Whilst the festive season ahead has its perks, it can also prove enormously challenging for us, both physically and mentally. Given the challenging times in the world at present, it is essential that we take care of ourselves to stay healthy and support our immunity this winter. So, here are a few tips on How to Stay Healthy this Winter (from the comfort of your home!)

1) Meditation 

Taking care of your mental wellbeing is of utmost importance, and by regularly checking in with yourself – especially during the upcoming colder months when feelings of anxiety and depression brought about by seasonal affective disorder (SAD) are much more prevalent, you are better able to be more grounded and balanced. 
Meditation is an effective way to alleviate festering negative thoughts. Simply find a quiet place in your home and allow your eyes to soften and close. Begin by examining your emotions and thoughts that are leading you to feel restless and anxious and are causing you stress. Turn your attention to your breath, allowing it to naturally slow down and deepen, helping to bring about a sense of ease as you begin to let go of your thoughts, offering you a moment of stillness and silence before proceeding with your day. Countless relaxation playlists and meditation Apps are also readily available online and are the perfect aid to meditation.
Our Meditation Cushion is perfect for those who need a little assistance shutting off from the world around them. Designed to promote good posture and lightweight, this is a versatile addition to your yoga equipment, usable at home or taken to class.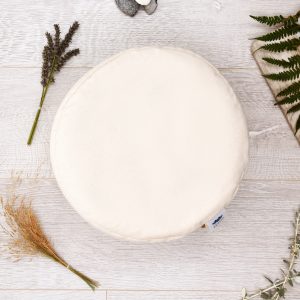 2) Restorative Yoga

Restorative Yoga is another great way to reduce stress and to relax the body and mind. Winter is filled with plenty of sharp juxtapositions: going from warm jumpers and crackling fires to rushing around in colder temperatures. Whether you're swept away amongst the typical flurry of Christmas shopping, or burdened by the newfound stresses of planning socially distant festivities, there's no time of year where relaxation is more vital. Restorative Yoga focusses on slowing everything down; it allows your muscles to release tension on a deeper level and to relax by opening up your body through passive stretching. As such, it's unsurprising that many studies have linked restorative yoga to reducing stress levels and symptoms of depression, whilst boosting immunity. Sometimes, a bit of stillness amidst the mad December rush is all you need! 
Not sure where to get started with yoga? Try our Yoga Gift Set including all the equipment you need to start practicing yoga from the comfort of home!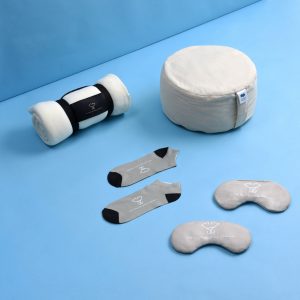 3) Eat well

Now, no one is saying you shouldn't treat yourself to that extra slice of Yule log! However, bar tucking into a well-deserved Christmas dinner, try to maintain healthy eating habits during the rest of the winter months to support your immune system. 
The lethal combination of colder weather and being stuck indoors, alongside the temptation of festive treats can lead to binge eating or poor dietary choices. Your diet is a powerful way to soothe winter imbalances and help you remain healthy. Why not make use of additional indoor time this winter and experiment with some new healthy seasonal dishes! Or, read our previous article here on how to eat yourself young for some tips on foods that you should be implementing into your diet. Remember, healthy body, healthy mind. 


4) Stay vigilant

We've had to follow government guidelines for over six months now, and after a while – especially during the holiday season – it's tempting to let things slip. To ensure that you and your loved ones remain happy and healthy, make suire you're still vigilant with your hand hygiene – particularly when navigating around public spaces for last minute present purchases! Ensure you're always wearing a mask when necessary and keep washing your hands. 
5) Treat yourself
The festive season may principally be about giving, however that doesn't mean that you should overlook taking some time for yourself. In truth, a little you-time is essential for maintaining balance and positive self-esteem which in turn, both positively impact your health and wellness.
Just the small moments to ourselves can do a world of good and we wouldn't be a luxury yoga retreat company if we didn't advocate a lavish, hot bath every once in a while… 


6) Sleep 

Possibly the easiest of our tips to implement: did you know as much as half of the UK population is believed to be suffering the negative effects of sleep deprivation? Whilst the cold, dark mornings may be unseemly to some, it's so important to maintain a healthy sleeping pattern. Having a good night's sleep can transform your mood, energy levels and is proven to positively impact you immune function. So do yourself a favour, and get a good night's kip!
In particular, we love our Lavender & Millet Seed Eye Pillow. Infused with soothing Lavender and microwavable, this eye pillow promotes deep relaxation, allowing you to truly shut off from the world around you.