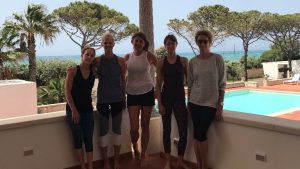 Booking onto a yoga retreat can be daunting; whether you're coming with a pal or venturing out on your own (you're not alone!) There are lots of things that can make you apprehensive about what to expect.
Fear not, with 10 international retreats and 25 years of experience teaching yoga under our belts, we have all the answers to calm your nerves, and ensure you have the best 2019 yoga retreat.
1. How do I know that I can trust the company before I book? 
There are lots of things that you can do to give yourself some peace of mind before you book with us. You can head over to our Facebook page (@yogawellnessco) or you can visit our website to look at our reviews, or you could even hop onto Companies House ti check our registered business details (no. 9648729).
Still a little apprehensive? Pick up a phone and call one of our friendly members of staff who will be more than happy to talk you through the retreats, yoga and even help you book travel arrangement or external trips during your stay.
You can call us on 020 3621 4388.
2. Who will I meet? What if we don't get on? 
Having spoken to many of our previous retreat attendees about what concerns they had before embarking on their first retreat, we found the same one cropping up again and again: What if I don't get on with my group? 
We can say with absolute confidence that we have never had a group yet, in which guests have not gotten on together, in fact on most of our retreats, guests make life-long friends.
We have a variety of attendees from different backgrounds and ages so we always have a wonderful mix of people on our mats! One of our most recent reviews even stated:
"Everyone was lovely, the food was delightful and the whole event was fantastic… I thoroughly enjoyed the yoga but also appreciated the interesting conversations over dinner that filled the evenings"
Sharon (Sicily Retreat 2019)
In any case, we all appreciate a bit of alone-time and so our retreat villas are carefully selected to ensure that they all have ample space to 'retreat' away from the group, with plenty of outdoor or indoor space to grab a book or call a family member if you want some downtime.
3. Am I good enough to join a retreat? 
Undoubtedly, the question we get emailed the most: Am I good enough to join a retreat? And the simple answer is yes. Any ability, whether you are a complete newbie or have 10 years of experience behind you, is perfect for our retreats.
Our retreat leaders are all experience yoga teachers and carefully plan and adapt lessons for all abilities within the room. We have previously had retreats with guests ranging from no experience to those with yoga teacher-training qualifications in one class and evert guest left the retreat feeling as though they had developed their skills.
To make the possible, all of our retreats have a maximum of 10 guests to ensure enough time is dedicated on each attendee to help them explore and improve their practice. So grab your mat and get booking!
If you would like to join one of our retreats head on over to our retreat page: www.theyogawellnesscompany.com/wellness-retreats/
or email us on hello@theyogawellnesscompany.com