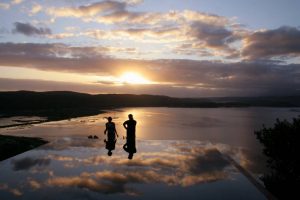 We've come to realise that with hundreds of companies now offering yoga retreats, the way we stand out to our audience is more important than ever; that's why, every September when we come to choose our line-up of retreat locations for the upcoming year, we always put you, our customers, at the centre of it – and build our retreats around the things that you love.
 So what makes the best yoga retreat? We spoke to a number of our previous attendees and teachers and realised that there are three recurring factors that are quintessential for the best yoga retreat.  
Meeting New People
A Non-Restrictive Environment
Experiences
Meeting New People
Joining a group of other people in another country can be daunting, however, we pride ourselves on running retreats that offer a balance between great communal areas and thus opportunities to make new friends; as well as villas that have enough cosy hideaways to grab a book and have some much-needed alone time.
All of our retreats have a maximum of ten guests meaning that there are plenty of others to find fun and common interests with – without feeling like you're lost in a sea of people! This also means that our retreat leaders can offer you the necessary attention during yoga workshops in order to strengthen and develop your yoga abilities.
We have guests travelling from all over the world, from all walks of life and varying levels of yoga and we can honestly say that we've never had a group where life-long friends have not been made. In 2018 we had one group of guests who got on so well that they have since booked their 2019 retreat all together!
A Non-Restrictive Experience
In our minds, retreats should be enjoyable and memorable experiences and that means having adequate free time to explore as well as enjoying delicious food using local produce and authentic recipes. That's why we don't stipulate strict diets or intense itineraries and instead encourage our guests to enjoy as many (or as few!) sessions as they wish and to make the most of the beautiful surroundings.
Our menus are predominantly vegetarian and pescatarian, dishes are plentiful and there are no empty wine-glasses at dinner time! Vegan or gluten-free? Not a problem – simply let us know when you book and for a small surcharge we will design dishes specifically for your dietary needs.
Experiences
Aside from retreats being a wonderful opportunity to dedicate time to explore your practice, we also know that our guests relish the opportunity to visit bucket-list locations – enjoying local culture and exploring heritage sights and attractions.
Because of this, we have carefully selected our venues to find the perfect medium between peaceful and secluded spots while still being on the doorstep of popular tourist attractions. From the Venetian architecture of Corfu's Old Town to the Archaeological park and Roman Amphitheatre of Syracuse (Sicily), we've got a huge variety of interesting spots to explore in each of our retreat locations – in fact, we even wrote a whole post on things to do in each location here!
If you want an unforgettable experience – with the time and commitment to develop your yoga skills with Jennifer Ellis – yoga teacher of 25 years– while also having the freedom to enjoying a proper holiday, then we are the retreat company for you.
To check out all of our locations visit www.theyogawellnesscompany.com/wellness-retreats/